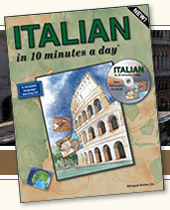 My favorite Italian restaurant talks to me. It really does. As I dutifully head into the restrooms with my little kids before dining I am usually greeted with, "Salve Gina!" Of course, since my name is Regenia I always take this personally and reply "Salve bagno!"The adorable greeting is part of an educational language tape that plays in the restaurant's bathrooms. Yes! My favorite Italian restaurant values education as highly as I do. When you visit you are immersed in the culture of Italy even while washing your hands before eating.
Italian in 10 Minutes a Day
provides a rich cultural audio experience as engaging as a talking bathroom in an Italian restaurant. The Italian program is one of 16 different introductory language courses offered by
Bilingual Books
. Extremely simple to implement, interesting, educational, and filled with a light-hearted atmosphere,
Italian in 10 minutes a Day
will encourage a desire within your students to acquire a second language.
Their slogan,
"In just "10 mins a day" you can be making new friends"
is a perfect description of the philosophy of this program. The lessons are brief, 7-20 mins in length; filled with practical conversational language designed to enable persons planning a trip to Italy the ability to speak in Italian. My children and I investigated the first six lessons over the course of several weeks and learned L'Alfabeto (the alphabet), Key Question Words (ie. Dove (where), Che (what), Chi (who), Quando (when)…), parole (words) for the home, parole for local travel, numeri (numbers), I Colori (colors), and a multitude of other useful parole including cioccolato (chocolate), which according to our instructor,
"is a very important word in any language".
The learning approach is audio based; however a helpful workbook is available to accompany the audio lessons. I found the visual reinforcement of vocabulary extremely important for my old brain as I tried to learn. My only criticism of the workbook was that some of the "parole" were not listed on the referenced workbook pages. All language spoken on the CD is done by native speaking Italians; a wonderful aspect of the program if you desire to speak the language accurately. However, my old American English speaking brain many times did not catch the subtleties of the pronunciations without the written word before my eyes for reinforcement. Younger ears attached to fresher minds might not have the same issue as my younger children seemed to easily parrot back the language as directed by our instructor.
Keith Johnson, Educational Sales Director for
Bilingual Books
, states that the program is recommended for students at a 5th grade reading level and up. I agree that being able to read increases success with the program, but language enthusiasts could easily utilize the program with younger students. I test marketed the program with kids aged 4, 7, 11, 14, and 17 and they all enjoyed the experience at their appropriate level. Studying the language as a family gave us greater opportunity to practice words and phrases throughout the week by talking with each other in Italian.
A complete package of six audio CD's, reproducible study aids on CD Rom, and written text with
flash cards, worksheets, and "sticky labels" for labeling vocabulary throughout your home is available on the Bilingual books website for
$59.95
. Additional work texts are
$19.95
, CD Rom only for
$14.95
, audio CD wallet for
$42.95
and a very basic Italian language map with over 1,000 Italian phrases for
$7.95
. For a minimal investment of
$59.95
your family can easily have everything they need for a one year course of conversational Italian. *Currently, customers can take advantage of a Traveler's special for the Italian and French programs. The worktext, CD Rom and language map are offered in a package priced at
$29.95.
Although the program prides itself on the "10 minutes a day" motto, students will want to spend several days on each lesson for mastery of the language. The key for success in my opinion is small doses of exposure often. I love Italian in 10 minutes a day because it easily fits into my personal educational philosophy for language acquisition.
Italian in 10 minutes a Day
is a wonderful asset to any foreign language study. The price, flexibility of the program and gentle instruction make it a joy for students of any age. My children and I looked forward to our lessons each day we used the curriculum. The voices of the male and female native speakers, occassional traditional italian music and constant encouragement from the narrator brought Italian culture and language to life for us. At the conclusion of our sixth lesson we were told to
"congratulate ourselves, take a deep breath and realize we were one step closer to having a wonderful time on our visit to Italy."
I think I can see Rome already!