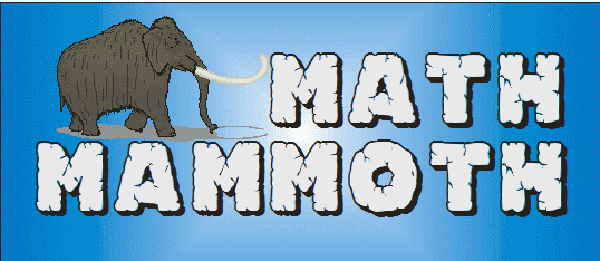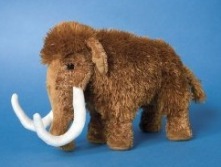 Math Mammoth
specializes in custom fit math programs for elementary aged students. Founded by Maria Miller, MA in mathematics with minors in physics and statistics and educational studies,
Math Mammoth
offers four different types of curriculum to meet the unique needs of homeschools. Customers may choose:
the

BLUE

series- worktexts organized by topic
the

LIGHT BLUE

series- complete comprehensive curriculum for each grade level
the

GOLDEN

series - worksheet practice for grades 3-Algebra 1 level
the

GREEN

series -worksheets by topic (designed for grades 3-7)
"
I always designed the lessons in the books so that they would teach BOTH the parent and the child the processes and concepts of elementary math"
, states Miller in her User Guide for the curriculum.
"Thus, the books contain very clear explanations, lots of visual exercises and pattern exercises that help children see the structure of mathematics and clearly understand the concepts of mathematics, instead of just memorizing rules"
, she said.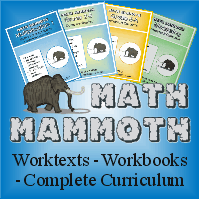 Math Mammoth
products are relatively inexpensive, but do require a bit of publishing on the part of the consumer. Customers choose between ordering a CD for their computer or downloading files immediately upon payment. I am not a fan of printable homeschool materials, simply because of the extra effort required to print, hole punch, and organize the materials once they are loaded to the computer. However, an entire 2nd grade level curriculum complete with instruction, 2 semesters of work-texts, cumulative reviews, tests, answer keys, worksheet generators, links to free on-line games to support each topic studied and a final comprehensive diagnostic test costs only
$29.70.
In addition,
Math Mammoth
allows unlimited use of products purchased within the family's homeschool, saving curriculum costs for future children studying the same level.
My 2nd grade daughter, Sierra used
Math Mammoth Level 2A
over the past few weeks. Miller sent us a link to download the zip file free of charge in exchange for this review.
Math Mammoth, Level 2
Light Blue
series consists of
249 pages
; more than enough for an entire school year. According to the
Math Mammoth
text, students in grades 1 and 2 will need to spend 25-40 mins. each day to complete the curriculum over a span of 200 days.
After a rocky start with the curriculum, I learned it is very important to open ALL the PDF files that come with the instant download. I thought, initially, we had not received an answer key or teacher's guide. I was wrong. Another mistake I made was to NOT have Sierra take the optional placement test offered by the company. Many of the review topics presented in the first section of
Level 2A
were taught in a different format than Sierra's previous mathematics experiences. This created a mountain of frustration for her and I as we tried to work through the beginning work-text lessons.
I remedied our frustration by locating the
User Guide
filled with helpful advice regarding curriculum use, testing, cumulative reviews, using the worksheet maker and contact information for Miller for further questions. After reading the User Guide I had Sierra take the Level 1 comprehensive final test to check her mastery of topics required for Level 2. Students must receive a score of 80% on the test to be ready for the next level. Sierra was not ready as I had suspected. I readily agree with Miller's recommendation to use the placement tests, available on the website, to avoid purchasing the wrong product or frustrating the student.
Although students in the early grades can complete
Math Mammoth
without manipulatives, Miller encourages use of a 100 bead abacus or base ten blocks for 1st grade.
"For the most part, the curriculum does not specifically emphasize manipulatives, but visual models"
, says Miller in the User Guide.
"However the exercises that use visual models CAN be done equally well with manipulatives (beans/counters, base ten blocks fraction manipulatives, etc.)",
she said.
Work-text pages of
Math Mammoth
are colored to aid visual learners and keep interest high. The beginning of each lesson provides brief instruction with a few sample problems surrounded by a blue box. Sierra struggled a bit with certain math topics and I found the instructions often were not detailed enough to meet her needs.
Miller offers suggestions in the User Manual to mix up instruction a bit or reach a struggling student. She advises teachers to make use of the
Worksheet Maker
, choose word problems from subsequent chapters relating to the topic or to simply incorporate one of the many on-line games listed at the beginning of each chapter for extra practice. The goal of
Math Mammoth
is mastery and Miller has created a host of opportunity for students to reach that level.
An optional test follows the conclusion of each chapter of
Math Mammoth
. Miller recommends using the tests only for diagnostic purposes or record keeping. The optional comprehensive final test is provided for each level of the
Light Blue
series as well. This is the same test on the website used for placement.
Cumulative review chapters are sprinkled throughout the curriculum. These chapters are available in PDF, doc, or htm file formats to allow teachers to customize problem sets for their student's specific needs. Miller recommends using the cumulative review chapters only as needed.
Although our experience with
Math Mammoth
was less than desirable due to (cough) user error, Sierra had only positive memories to share about her experience.
"I like the directions and the colors on the pages,"

she said

. "Math Mammoth colors things in so it's not confusing. The lessons seem pretty long, but I think I learned a lot"
, she added.
For more information about
Math Mammoth
visit their website at
www.mathmammoth.com.
Samples of the curriculum are available as well as the option of purchasing smaller portions of the curriculum before committing to a full package.
Level 2A
or
Level 2B
of the
Light Blue
Series retail for
$15.50
each and is only available as an instant download. In addition, Miller offers a free 7 day virtual math educators e-mail course or tour of
Math Mammoth
filled with benefits on the
site
.
A rainbow of choices and seeming endless supply of customer service and support
guarantees
Math Mammoth
is certain to fit the needs of most homeschool families in search of quality math curriculum for the elementary years.